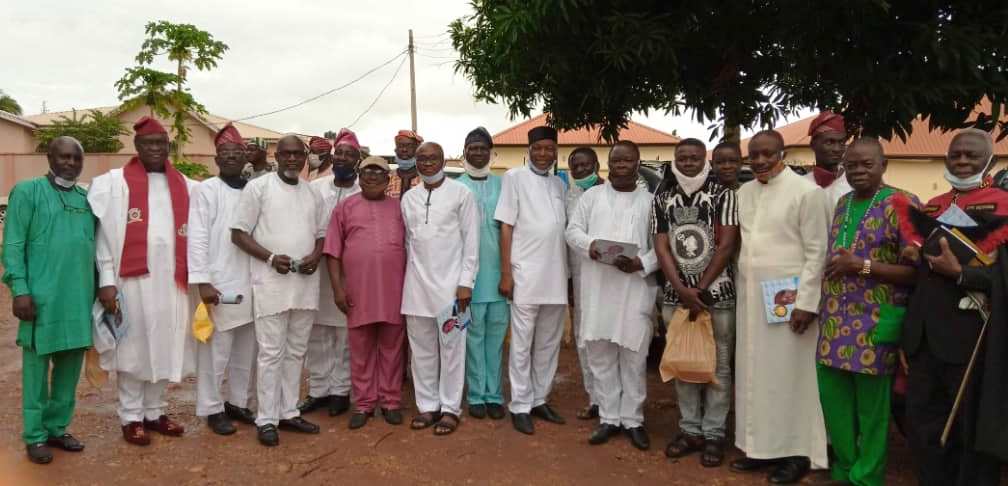 THANK YOU NOTE FROM THE CEC PRESIDENT AFTER SIR ANTHONY'S BURIAL.

Dear Fellow Charleans,

On behalf of SCOBA CEC, we first of all, must give thanks to Àlmighty God for the blessing of making us witness the successful burial today of our beloved exemplary Elder, Charlean Sir, Pa Theophilus Anthony.

Thanks very much everyone for your kind show of respect to Pa Anthony's memory by abstaining from posting messages capable of tilting the funeral mood during his Funeral and Interment ceremonies. This humble gesture is highly appreciated.

We must also appreciate the Catholic Church and Pa Anthony's Society and peers in the Church and give special praise to everyone there for the wonderful organisation and mobilisation to ensure the befitting Wake, Funeral and Interment ceremonies leading our dearly beloved Pa Anthony on a glorious final journey.

Special appreciation to the Clergy of which our own Charlean Rev. Fr. Femi Adetunji who left his beat to ensure Charlean official presence on Charlean Sir Pa Anthony's Funeral Service was a visible part. We are eternally grateful to them all.

Very Special appreciation also goes to Charleans of the Catholic Church's Knights of St. Lumunba, Charlean Sir Henry Fawole, a SCOBA BOT member, Charlean Sir (Engr) T.O. Oyedara and Charlean Sir (Arc.) Dele Õjo, who all spearheaded the funeral arrangements and ensured prominent inclusion of SCOBA in the process. God bless them for the great job.

Our eternal gratitude goes to the SCOBA BOT Chairman, Prof. Babatunde Benjamin Adeleke and the various Elder Charleans for their usual exemplary committed involvement whenever it comes to participation in Charlean matters.

In the same vein, deep gratitude goes to all Charleans for their contribution and participation in one way or the other towards resources and activities leading to the impressive and befitting funeral.

Very special appreciation mention is made of our indefatigable Osogbo Homebase Chapter leadership and entire Membership for their dependability, resourcefulness and and exemplary display of true Charlean fraternity in their devotion to group representational upliftment at events/programmes within the SCOBA Family.

To the SCOBA communication crew for the funeral- front and backend, SCOBA 1st VP, Engr Foluso Oyesiku (Lead), PubSec Pius Adesakin, Debo Adewumi, Paschal Ajayi, Wasiu Bello and Kunle Agbomojo, our young evolving SCOBA support.

For everything, we say a very Big Thank You to all.

May Charlean Pa Anthony's soul and those of our faithful departed through the mercy of God rest in peace. Amen.

Thanks very much as always.

Humilitas.

Rotimi Aluko
PRESIDENT
SCOBA CEC 2018-2020.